Class of
2022
Internship
RA, Boston College Morality Lab
I am a rising third-year undergraduate student studying Cognitive Science, Psychological and Brain Sciences, and Public Health Studies. This summer, I am working with Liane Young at the Boston College Morality Lab studying prosocial behavior and decision-making with postdoctoral fellow Gordon Kraft-Todd. Our project focuses on virtue discounting in the context of economic games. We are exploring how public (vs private) displays of virtues (generosity and impartiality) affects participants' decisions of transferring an amount of money to a partner. Additionally, we are exploring how generosity (vs impartiality) of a partner affects participants' decisions of trusting a partner. We are hoping to launch our project soon!
For this experience, I was awarded both the Summer Plunge Grant ($2500) and the Second Decade Society Grant ($2500). Though I couldn't be in Boston physically this year, we were lucky to make everything work remotely, and I've been offered the opportunity to continue working in the lab continuing this fall. I hope to submit and present at the Society for Personality and Social Psychology virtual annual conference in the spring.
In her profile photo, Carol Lu shows herself with her four-legged work-from-home buddy Hōjicha. Pictured below, a snap from Carol's video meeting with Gordon Kraft-Todd, a postdoc in the Morality Lab.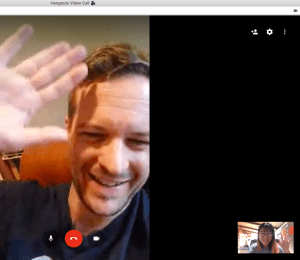 Posted August 18, 2020